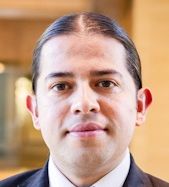 Solutions Architect for Latin America in Esri, and is the responsible for support the Esri distributors and business development team in the region by defining solutions and patterns that demonstrate the business value of the Esri's platform.  With over 11 years in the IT industry, Carlos has a vast experience in Geographic Information Systems (GIS) and related technologies, applied in different segment markets including, Utilities, Oil & Gas, Mining, Government, Defense, among others.  Carlos is a Computer Science Engineer from Los Andes University in Colombia, and during his career, he has held several positions including, Consulting and Programmer, Technical Marketing Engineer, Utilities Industry Manager, Esri Product Manager and Business Developer, helping users successfully implement and customize their Esri solutions.
Carlos Cardona es el Arquitecto de Soluciones para América Latina en Esri, y es el responsable de apoyar a los distribuidores de Esri y al equipo de desarrollo de negocios en la región mediante la definición de soluciones y patrones que demuestren el valor de negocio de la plataforma de Esri.  Con más de 11 años en la industria de TI, Carlos tiene una amplia experiencia en Sistemas de Información Geográficos (SIG) y en tecnologías afines, aplicadas en diferentes segmentos del mercado, incluyendo, Servicios Públicos, Petróleo y Gas, Minería, Gobierno, Defensa e Inteligencia, entre otros.  Carlos es Ingeniero de Sistemas y Computación con énfasis en SIG, de la Universidad de los Andes en Colombia, y durante su carrera, ha ocupado diversos cargos, incluyendo, Consultor y Programador, Ingeniero de Mercadeo Técnico, Gerente de Industria de Servicios públicos, Gerente de Producto Esri y Desarrollador de Negocios, ayudando a los usuarios a implementar con éxito y personalizar sus soluciones Esri.
Carlos Cardona will be speaker at Geointelligence for Defense and Security Forum, to be held in June 18th as part of MundoGEO#Connect LatinAmerica 2013, Conference and Trade Fair on Geomatics and Geospatial Solutions, in Sao Paulo, Brazil.

Abstract: Aerial imagery has become the default base map for GIS over the past two decades. The number of digital frame cameras on aerial and UAV platforms is rapidly increasing and each sensor may take thousands of images in a single flight leading to very large collections of imagery. Such cameras typically use GPS and IMUs to records their location and orientation. Now, real-time full-motion video (FMV) technology, once only available to the defense and intelligence community, enables GIS users to capture, archive and utilize this rich source of visual intelligence for real world solutions. As a result, imagery has transformed from a base map layer to an operational layer. Traditional manned platforms can already capture FMV and the new generation of inexpensive Unmanned Aerial Vehicles (UAVs) makes this technology even more accessible to a wider range of users. This technology allows for routine asset inspections on a regular basis or timely feedback during an emergency response. Whether dealing with a man-made or natural disaster, FMV can provide real-time situational awareness without placing personnel at risk. At the latest version, ArcGIS includes expands its support for Imagery to include capabilities for working with motion imagery.
These capabilities will help Defense, Intelligence, Emergency Response and Homeland Security customers to utilize assets which capture Full-Motion Video (FMV), and integrate them with traditional GIS datasets and analysis.