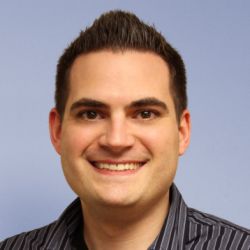 Senior Account Manager for Blue Marble Geographics, the developer & leading provider of Global Mapper software. Adam earned his B.A. in Economics at the University of Wisconsin and is a native of Madison, Wisconsin. Additionally, Adam also holds his CPGIS from the University of Wisconsin's Department of Geography.
Adam brings applied & comprehensive GIS software experience to the Blue Marble technical sales team and manages several global initiatives designed to promote the use & awareness of Blue Marble's affordable suite of GIS software applications. He is also responsible for delivering on-site technical demonstrations & software training with a particular focus on software ease-of-use.
Through these mediums Adam drives both product development & business development, turning user feature enhancement requests into powerful new features delivered within Blue Marble technology.
Adam Hill will be speaker at Seminário Gestores Públicos de Geoinformação,to be held in may 7th as part of MundoGEO#Connect LatinAmerica 2014, Conference and Trade Fair on Geomatics and Geospatial Solutions, in Sao Paulo, Brazil.