Already available the program of MundoGEO#Connect LatinAmerica, the largest conference and trade fair for geomatics and geospatial solutions in Latin America, which will take place in Sao Paulo, Brazil, from June 18 thru 20
MundoGEO#Connect LatinAmerica 2013, Conference and Trade Fair for Geomatics and Geospatial Solutions is bringing its final programming, with more than 15 activities among seminars, special events, courses and user meetings. The third edition of the event will be held in June 18 thru 20 2013 at the Frei Caneca Convention Center, in Sao Paulo, Brazil. The previous edition had 3,350 attendees from 27 countries and over 70 global brands in the trade fair.
Among the various conference activities, the event will have five courses with a six hour duration, focused on professionals who want to learn the basics and possibilities of geospatial applications. "These courses , planned for the first day of the event, aim to keep professionals up to date, getting the most of the remaining days for the conference and to visit the trade fair," says Emerson Zanon Granemann, director and publisher of MundoGEO.
Check out the courses topics:
• Georeferencing of Rural Properties: What are the regulation improvements and obstacles in its implementation?
• Geomarketing in Practice: What is it good for and how to implement the projects?
• GIS in Public Management: How to avoid errors in the stages of design, contracting and system upgrade?
• Rural Environmental Registry: Learn to make field surveys according to the new Forest Code
• Spatial Data Infrastructures (SDI): After all, what, why and how to introduce it?
View the complete schedule. Registration for MundoGEO#Connect LatinAmerica 2013 will be available the end of December.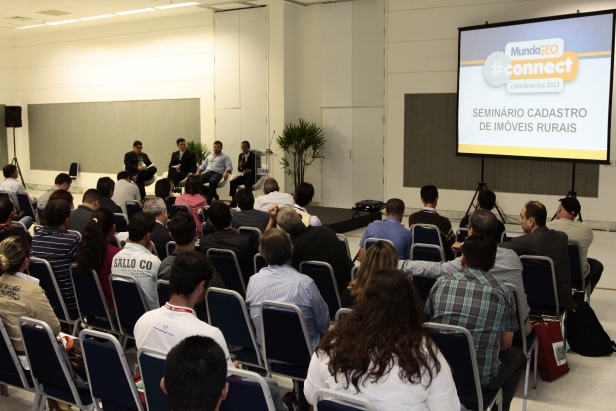 About MundoGEO
MundoGEO, founded in 1998, is leader in Latin America in integrated solutions for media and communication for the geospatial and LBS sectors. The connection platform generates content in portuguese, spanish and english for more than 100,000 professionals registered in the magazine, web portal, social nets, webinars and events, such as MundoGEO#Connect LatinAmerica. This annual event is held in Sao Paulo, and in the previous edition gathered together more than 3,350 attendees, from 27 countries, and 70 global brands in the trade fair.